Members Area
COVID-19 Rules for Playing Golf
Please familiarise yourself with our latest guidance prior to visiting Inchmarlo Golf Centre (updated 29th May 2020).
Before arrival
If you are ill or have any symptoms of COVID19 then stay at home.
Please do not arrive without Booking a tee time online (up to 7 days in advance), or call in advance if this is not possible for you.
Bookings can be made for up to 4 people whilst adhering to the 2-household rule in each group.
Member's guests will be permitted whilst adhering to the 2-household rule in each group.
On arrival
We have a large car park at Inchmarlo Golf Centre so we ask you to leave a car space in between cars when parking when possible.
We ask you to arrive around 10-15 mins before your tee time to aid flow and social distancing
Check in before play and make pro staff aware you have arrived and follow their direction.
The member's locker room will remain closed until such time as Government restrictions are such that we can open it, although one off pre-arranged access will be given to retrieve golf equipment.
Please come to Inchmarlo changed and ready to play golf apart from your golf shoes and change in to them and out of them in the car park.
Pro-shop area
We have procedures in place regarding hygiene and social distancing in and around the pro shop area for both the staff and golfers for everyone's benefit to provide a safe and enjoyable experience.
Please sanitise your hands on arrival using the foot pump operated sanitiser at the door.
Please only enter the shop if there are no other customers in the shop. If there are customers, please wait at the designated area until the shop is clear.
We have introduced a one-way system to enter through the Pro-shop and exit via the Driving range, please adhere to this at all times.
Please observe our social distancing measures in and around the pro shop.
Thank you in advance for your cooperation and understanding.
On course
Please observe the rules regarding social distancing and on course regulations at all times.
We ask you not arrive at the first tee more than 5 minutes before your allotted tee time.
Course furniture- all ball washers', benches and bins have be removed from the course in the meantime we ask golfers to take their rubbish home with them.
The course is pristine after the closure, let's keep it that way repair pitchmarks and replace divots please.
Following play of a hole, do not enter the next teeing area until the all members of the group in front have played their tee- shots and exited the teeing area.
Teeing Areas – golfers to keep 2 metres apart at teeing areas and one group on the teeing area a many time.
Golfers to stay more than 2 metres apart when walking to the ball, searching for a ball and playing shots.
Golfers please do not to touch stray golf balls.
Bunkers -with no rakes allowed on the course, golfers please make your very best efforts to smooth the sand using their club and/or their feet.
Putting Green – Do not touch the flag or flagstick. Putt with the flagstick in and remove your own ball from the hole. Remember not every putt needs to be holed Scotland is the home of the "gimme"!
After the round
No handshakes at the moment please.
The clubhouse areas remain closed at the moment.
Return directly to your car, change your shoes, put your equipment in your car and leave. Do not store your equipment in your locker.
Driving range operation
Pro-shop staff to advise bay number to aid flow and use
Every second bay in use to aid social distancing at 2 meters plus.
Contactless card payment encouraged or use/ purchase of range cards
No range tokens will be distributed.
Golfers without range cards will have access to pre dispensed balls dispensed balls from the pro shop area with sanitising measures provided.
The golf balls are washed thoroughly with soapy water after every use.
Sanitising station provided on the range and the staff will carry out regular cleaning measures.
Golfers to use their own equipment where possible.
Members Area
Mixed Stableford Sundays – Please note on Sundays during the Season there is option of 9 or 18-hole stableford for all membership categories and genders – ladies play from red tees.  Please state before play if you are competing over 9 or 18 holes.  Play any time of the day, players organise their own tee time.
2020 Men's Section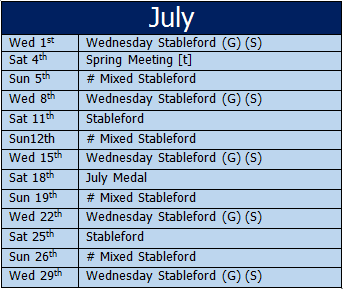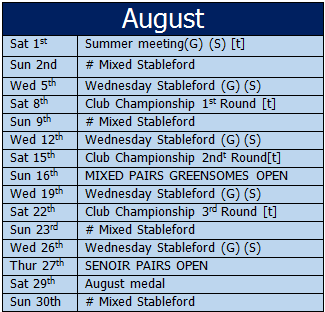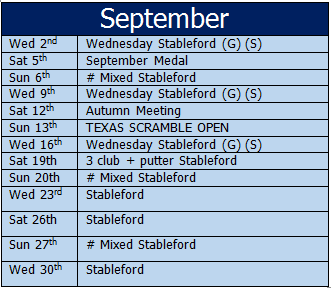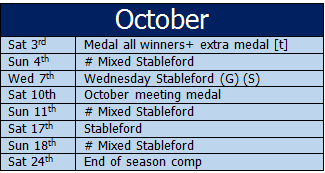 Competitions marked [t] for trophy
Spring Meeting- medal play best net score
Summer Meeting-medal play best net score
Autumn Meeting-medal play best net score
Club Championship- 3 round total net and gross score winners
Medal all winners- Medal final- contested by winners of medal comps through the season
Burnett trophy- Matchplay singles knockout enter on board
2020 Senior Section
Competitions open to male golfers, 55 years and over.
Monday competitions – over 18 holes yellow tees. Players can play any time of the day by organising their own partners and adding their names to the allocated block start time between 9.00 – 9.30 am via online booking or the pro shop.
Thursday 9 hole roll up competition – play over 9 holes (yellow tees only) in the allocated tee block booking. Enter online or via the pro shop, with playing partners being drawn prior to tee off.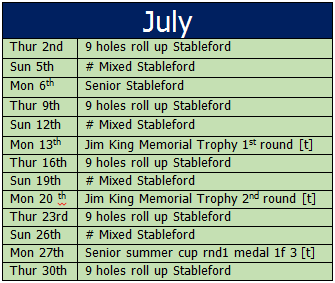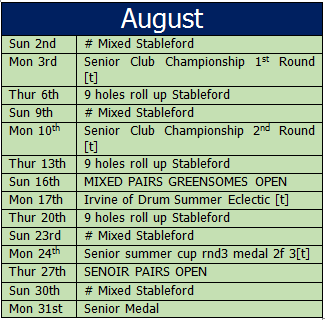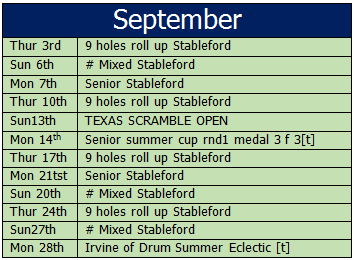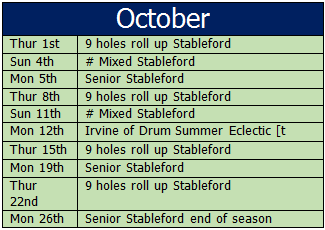 Competitions marked [t] for trophy
Senior Section Singles Champion- match play singles handicap [enter on board]
Senior Gents Summer Cup – "Best 2 from 3 Medal Rounds"
Jim King Memorial Trophy- 2 round stableford total competition
Senior Club Championship- medal play gross total/medal handicap total
Irvine of Drum Summer Eclectic- 4 round best net 18 hole aggregate total
2020 Ladies's Section
Tuesday competitions played over 9 holes. Please add your names to the allocated block start time between 9.30 – 10.00 am via online booking or the pro shop. If this time is not suitable players can play any time of the day organising their own partners.
Thursday competitions – twice a month we have ladies Stablefords played over 18 holes. See fixtures for dates. Players can play any time of the day organising their own partners.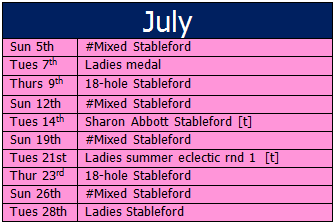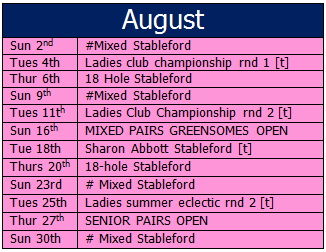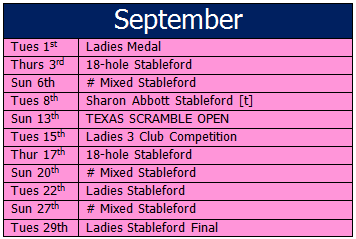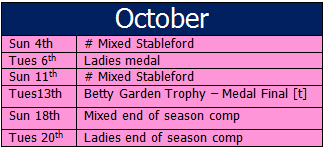 Ladies Section
Competitions marked [t] for trophy's
Sharon Abbott Stableford- best 3 stableford scores from 6
Ladies Summer Eclectic- best net 9-hole total aggregate
Ladies club championship- 2 x 9 hole round total gross and handicap winners
Ladies stableford final – contested by winners of stableford comps through the season
Betty Garden Trophy – Medal Final – contested by winners of medal comps through the season
Competitions which are not on fixture list are as below,
Elizabeth Ferries Salver – Doubles Matchplay
Anne Smart Quaich – Singles Matchplay
For further information on any of these events telephone the Pro Shop on 01330 827080 (option 3).